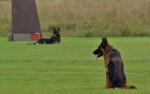 Essence of obedience is learning through fun and perfect contact of guide and dog. Training  should be based on positive reinforcing, rewarding - delicacies or a ball, without penalty or using force. 
The judge evaluates the speed and accuracy of executing the commands, but also whether a dog performs them willingly and joyfully. The dog should be focused on the guide all time.  The exams can be taken by all dogs, both purebred and mixed-breed dog, but the owners/guides must be members of the Kennel Club. 
In a competition there are 4 classes depending on the degree of difficulty and requirements. 
Examples of exercises include: change of position sit-down, paging, jump over an obstacle, the contribution, stop during march. 
Each exercise is judged by the judge on a scale of 0-5; 5.5; 6; 6.5; 7; 7.5 ... 10 points.  Also overall impression is important. 
Regulations do not provide possibility of repeating the exercise. However, there is a rule of disqualifying a dog for any signs of aggression and guide - for disciplining the animal.  Obedience is a sport for everyone. It can be done with any dog, anywhere. It does not require large amounts of money, and can make a lot of pleasure.